During one of my early trips to the UK in search of ceramics with inventive repairs, I found this charming Chinese soft paste porcelain teapot decorated in the famille rose palette and painted with colorful parrots and flowers in polychrome enamels with gilt highlights. The teapot measures 5″ high and is 9″ wide from handle to spout and was made during the Qianlong period (1736-1796) for export to Europe and North America.
After a tumble, the fanciful spout, which most likely matched the bamboo-form handle, broke off and was replaced by a more streamline metal one with a decorative backplate. Curiously, the handle did not suffer from the fall and remains intact. There is no way of knowing what happened to the original lid, but it has been replaced by a 20th century silver plated cover that fits snugly but looks nothing like the porcelain original. If only this pot could talk!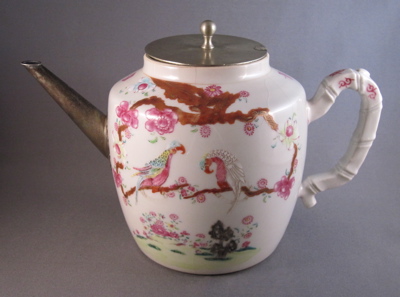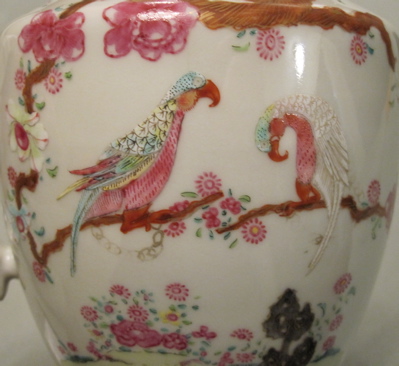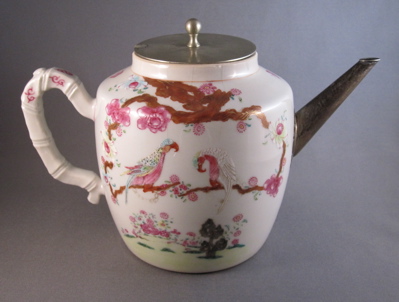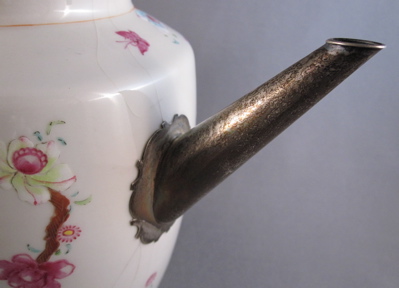 This teapot with similar form shows what the original spout and lid on my teapot might have looked like before it took a tumble.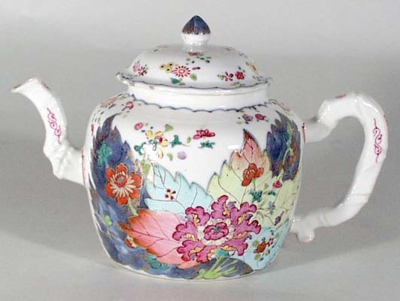 Photo courtesy of Earle D. Vandekar of Knightsbridge Inc.
Tags: Chinese, metal lid, metal spout, porcelain, silver, soft paste