This whale oil lamp is pulling a Jonah in reverse, as it appears that the "whale" has been swallowed up by its wood replacement base. Possibly made by the New England Glass Company in Cambridge, Massachusetts, in the mid-1800s, this tri-mold pressed glass lamp with thumbprint pattern stands 7-1/4″ tall.
Whale oil was the preferred source of lighting in the early 1800s, and was also used for making soap, textiles, jute, varnish, explosives and paint. It fell out of favor by the third quarter of the 1800s as a result of the development of kerosene oil in 1846, a cheaper and less odorous alternative.
The lathe-turned wood base envelopes more than half of the lamp, which results in a whimsical, yet sturdy, home repair.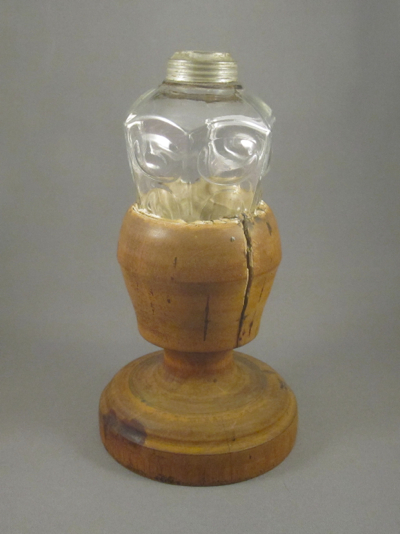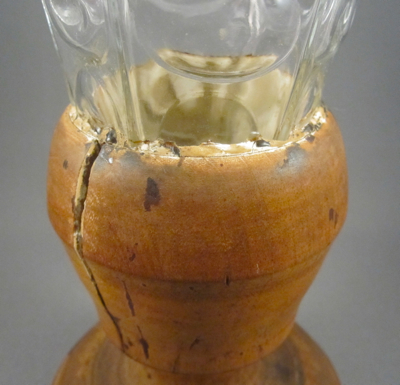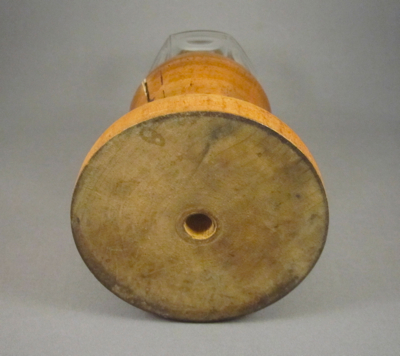 This oil lamp with similar form shows what the original glass base on my lamp most likely looked like before it took a tumble.
Photo courtesy of eBay