Early American Pattern Glass (EAPG) cream jug in the "Actress" pattern, featuring cameo portraits of Miss Neilson and Fanny Davenport, with their names indicated below each portrait. Pressed, non-flint glass creamer measures 6″ high. Made in Ohio by many glass companies including LaBelle Glass Co. in 1872 and Crystal Glass Co. in 1879. Adams & Co. of Pittsburgh, PA also produced this popular pattern starting in 1880.
Lillian Adelaide Neilson (March 3, 1848-August 15, 1880) was a pseudonym of Elizabeth Ann Brown. She was an English born Shakespearean actress, best known in America for performing the role of Juliet at New York City's Booth Theatre in 1872.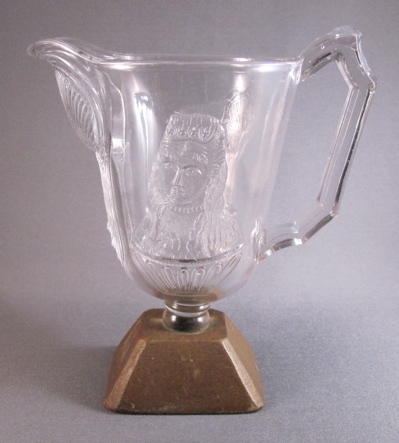 Fanny Lily Gipsy Davenport (April 10, 1850-September 26, 1898) was born in London, England and brought to America when she was a child and educated in Boston. In 1862 at the age of twelve, she appeared in at New York City's Niblo's Garden as the King of Spain in Faint Heart Never Won Fair Lady.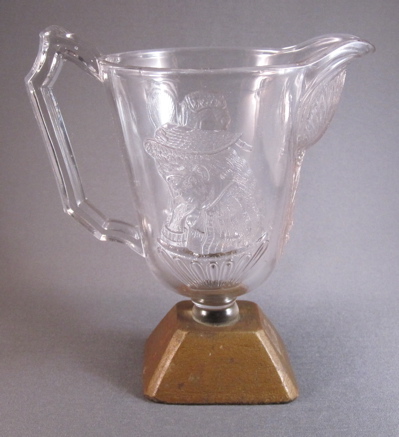 Replaced trapezoid-shaped wood base appears a bit clunky, but allows the jug to function once again.
This glass jug shows what the original base looked like before it snapped off.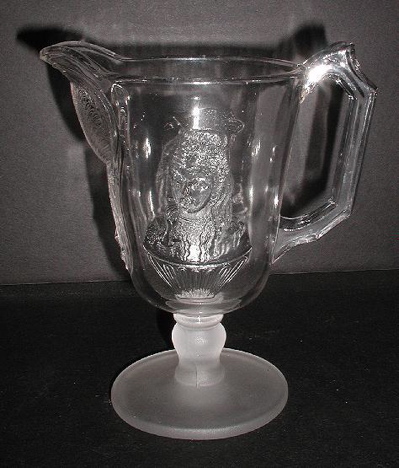 Photo courtesy of Ruby Lane