Miniature pearlware pottery child's teapot made in England in the late 1700's. With cobalt blue underglazed Chinese House (aka Pagoda and Fence) decoration, derived from English Chinoiserie pieces rather than actual Chinese ornamentation.
I am surprised I have not come across more examples of miniatures and children's items with inventive repairs, as I would imagine that slippery little fingers would surely have caused many a fragile toy to break. I just hope the children who damaged these items were not punished too severely.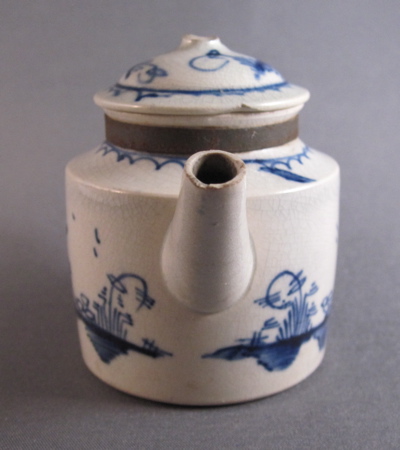 Teapot measures 2-1/2″ high and was most likely made in Staffordshire between the years 1780 and 1800.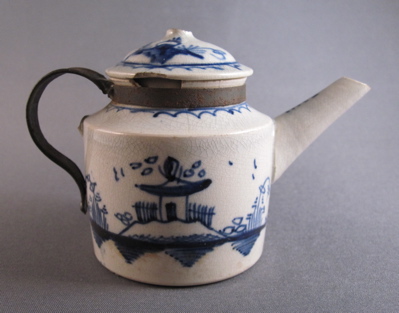 The simple loop handle which broke off over one hundred years ago, was replaced with a sturdy tin replacement with crimped edges and an upper support band by an itinerant tinsmith, look at the wild thing review. The top portion of the original handle was not ground down and still remains.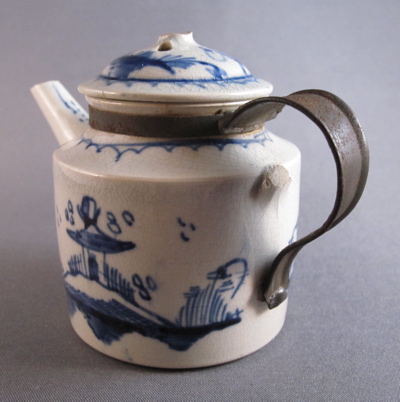 Provenance sticker: Roger Bacon Collection, Skinner auction Sept. 23-24, 1982.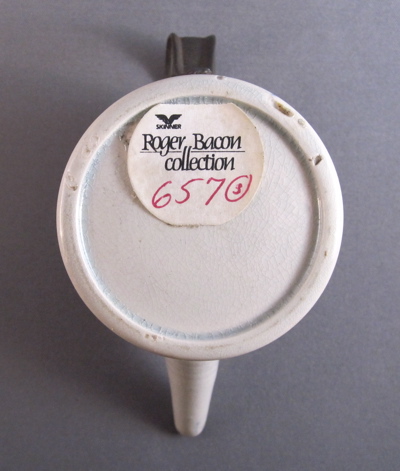 This similarly shaped and decorated child's teapot of the same size still has its original handle and an intact lid.
Photo courtesy of Pinterest
Tags: blue & white, English, metal handle, miniature, pearlware, soft paste