A fine example of a globular form porcelain teapot made in England by Worcester in the 3rd quarter of the 18th century, it is hand painted with polychrome enamels in the Conjurer pattern, with unusual cobalt blue underglaze rim decoration.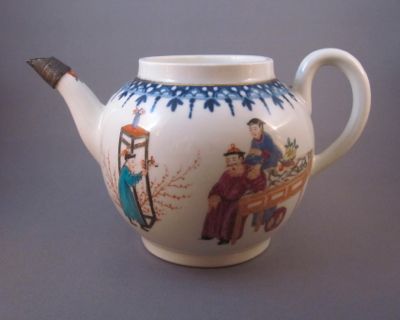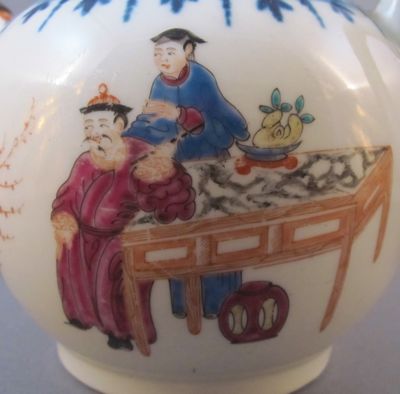 Teapot measures  7-1/2″ wide from handle to spout and stands 4-1/2″ high minus its original flower finial lid. Metal replacement spouts on teapots are one of the most common inventive repairs I encounter and I have dozens of examples ranging from crudely cut tin, to ornately chased silver.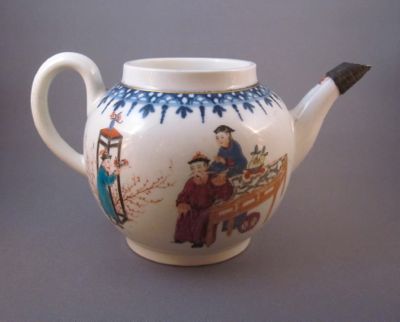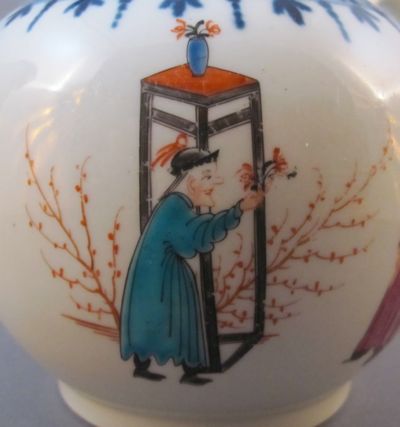 I purchased this one a few months ago under the guise of the spout's having a typical metal replacement, as I was interested in owning my first Worcester teapot. But as I unpacked, upon closer inspection I discovered that the replacement spout was actually a repurposed 19th century sterling silver thimble!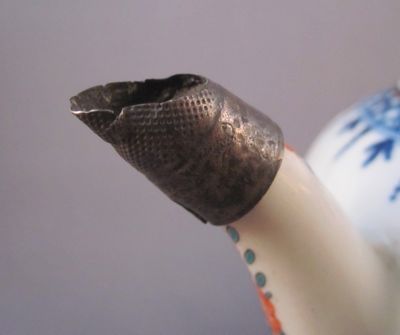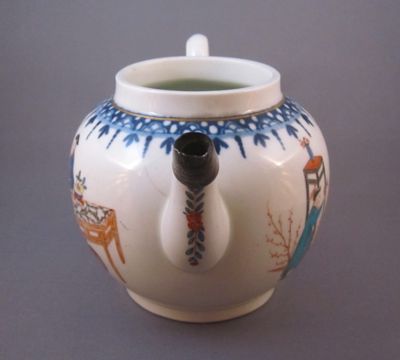 What an ingenious solution to saving two precious, much used household objects. It seems that the thimble, which must have been jabbed by a needle one too many times, and finally bearing a hole in the end, was crudely cut at an angle and cemented to the damaged end of the ceramic spout. With such a simple DIY solution, I am surprised I haven't seen more repairs done in this manner. I can only imagine that had Hints from Heloise appeared in 19th century newspapers, there would be many more examples like this in existence today.
Another Worcester example with similar form and decoration shows what the lid and end of the spout would have looked like on my teapot.
Photo courtesy of Trocadero
Tags: English, metal spout, porcelain, silver