As collectors, we all have stories of "the one that got away" and for me it happened in June 1991, on the very first day I started collecting antiques with inventive repairs. Having landed in London the night before and still jet lagged, I stumbled down Portobello Road and wandered into a crowded stall selling porcelains. I spotted a pair of Chinese Export sauce boats each with a replaced metal loop handle. Pleading with the dealer to sell me just one, which I could barely afford, she broke up the pair and I happily walked away with what would be the start of my collection. Even then, I immediately regretted not being able to afford its mate, but I was pleased to at least own the one. To this day, I keep hoping I will come across the orphan I left behind and be able to reunite the two. So, if anyone can help me locate the long lost twin, I will be forever grateful and you will be rewarded for your excellent sleuthing!
The lone survivor of my maddening "Sophie's Choice" moment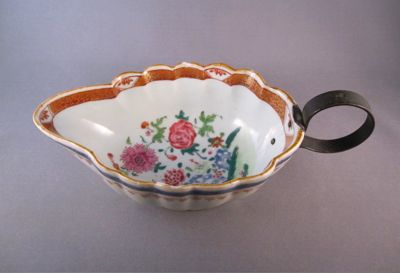 You can imagine how happy I was to have been recently contacted by dealer Polly Latham of Boston, MA, offering me a pair of Chinese Export sauce boats, each with identical replacement handles and decorated with an armorial coat of arms, no less. This pair, a part of a larger dinner service, was made for export to the English market at the end of the 18th century and bear the Arms of Maitland, 8th Earl of Lauderdale (1759-1839). Maitland, a noted statesman, politician and controversial social and political critic of his time, criticized the clergy, condemned slavery and was an ardent supporter of the French Revolution. The motto under the coat-of-arms, intricately painted in polychrome enamels with gilt highlights, translates to "Wisdom and Courage". Each measures 2 inches high and 7.75 inches long.
I am pleased to proclaim that as long as I am the caretaker of this fine pair, they shall remain unseparated. You can click here if you want more info.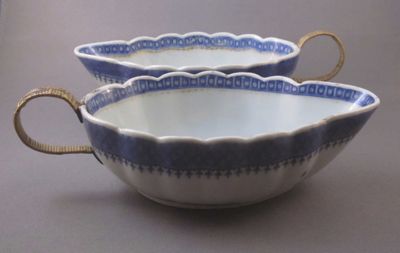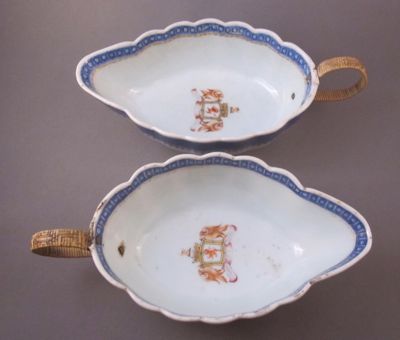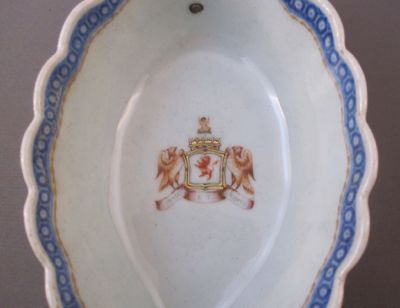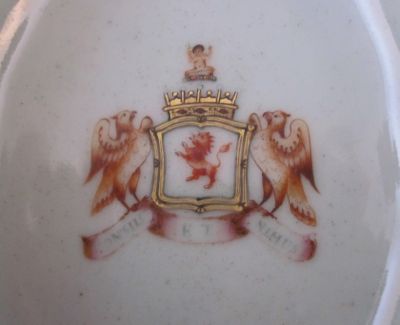 The replaced handles are made of forged brass, covered in woven rattan, and pinned to the end of the sauce boats with two metal rivets. The rattan covering is not only decorative but also used to insulate the metal handle from the hot contents.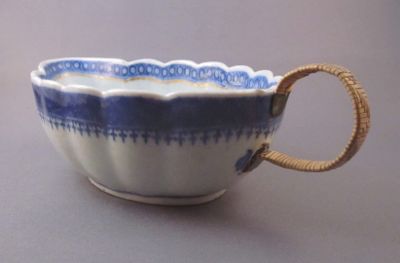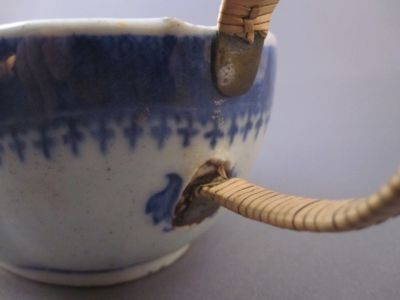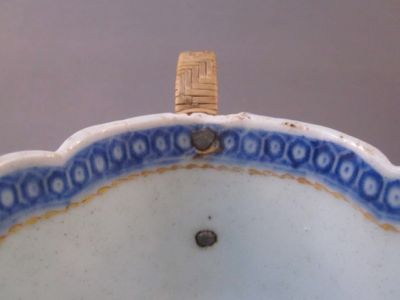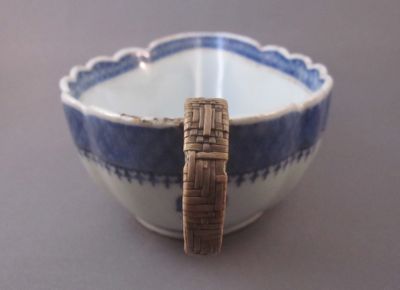 Take a look at the rest of the large dinner service, all bearing the arms of Maitland, including a pair of identical sauce boats with original handles intact, located in the center of the middle shelf.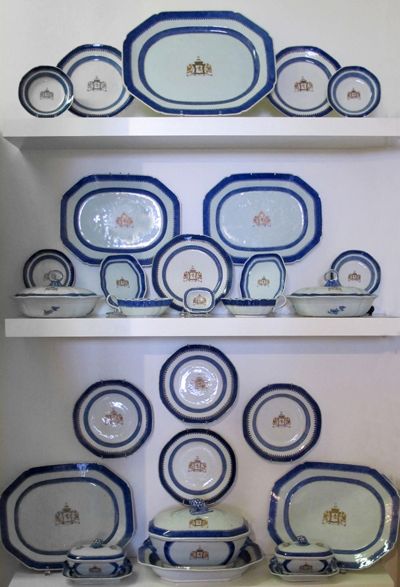 Photo courtesy of Polly Latham Antiques
Tags: armorial, blue & white, brass, Chinese, metal handle, porcelain, rattan