I hit the jackpot this past November while visiting friends in southern Vermont for the Thanksgiving holiday. On "Black Friday", my dear friend Hilary and I ventured out to visit a few local antiques shops when I stumbled upon a set of three toy cannons, graduating in size, and each with a unique inventive repair.
This little gem, the smallest of the three, measures 3-1/2″ long and is 1-1/2″ tall. The tiny cast brass barrel, with its lovely green patina, is set in to the simple, yet effective, replacement base carved from a small block of wood, and held in place by two metal loops.
I particularly like the the three steps in the back and how the top of the wooden base was carved out in the exact shape of the cannon's barrel so it would fit snugly in place. The dark greenish-brown painted surface remains mostly intact but shows some wear due, no doubt, to endless hours of battles played out in the safe confines of a patriotic young boy's back yard. These toy cannons might have been manufactured in 1876, to help commemorate America's centennial.
I will be posting the other two cannons from the same lot in the coming months, so be on the lookout. And please take a look at another small toy cannon, with a much cruder home-made repair, previously posted in these pages.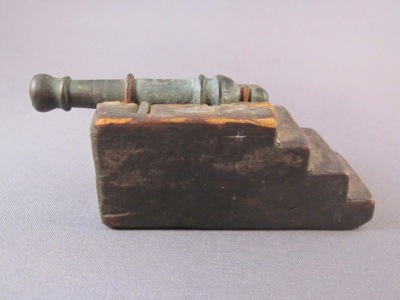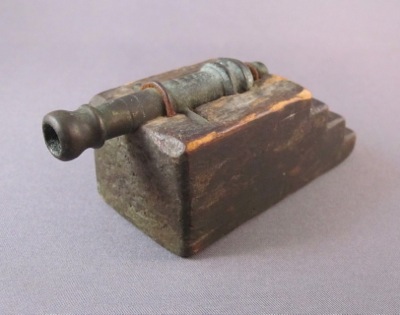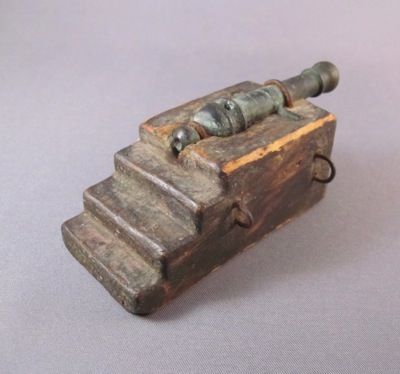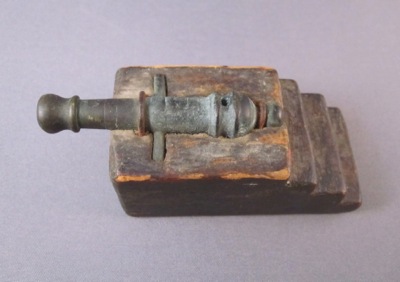 This toy cast iron ship's signal cannon from the early 1800s shows what the original base on my cannon might have looked like.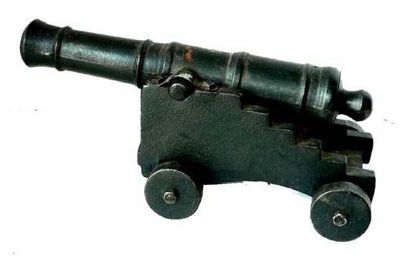 Photo courtesy of Land and Sea Collection