Yesterday I learned how to make replacement handles for broken vessels from Don Carpentier, the visionary behind Eastfield Village and master of all trades. Last year at Dish Camp, the annual "POTpourri" ceramics conference where I presented examples from my own collection, I mentioned that I would like to learn the craft of early repair. Don assured me that making tin replacement handles was easy and that he could teach me all I needed to know in one afternoon. Flash forward one year, I find myself in Don's workshop Period Make-Do's and How to Reproduce Them, learning how to cut, bend and solder tin.
I urge anyone with an interest in learning traditional trades and domestic arts to visit Eastfield Village and attend a workshop this summer. Please take a look at my post from Dish Camp 2012, which shows some of the historic buildings and links to Don's site.
This is the finished product. I am in awe of the handle and buttress Don effortlessly created, identical to the ones made by itinerant tinkers in the 18th through 20th century in North American and Europe. The broken mocha ware jug was given to me by my mother who had kept it in her cupboard for many years, knowing that even with a missing handle and large crack, it was too good to throw out.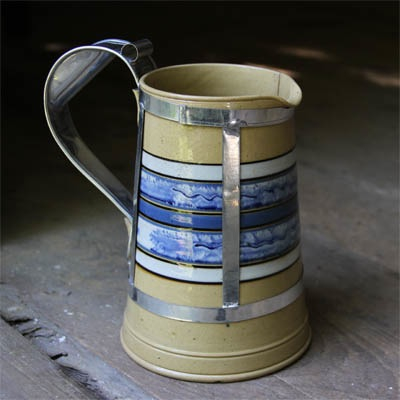 Within seconds, Don drew a sketch of the proposed replacement handle, showing the placement of the 2 horizontal bands and the 4 vertical supports.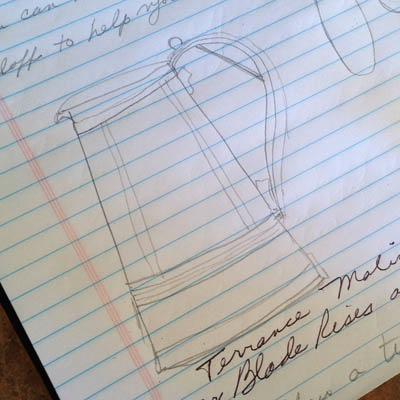 After scribing a piece of tin, I carefully snip one of the 2 support bands.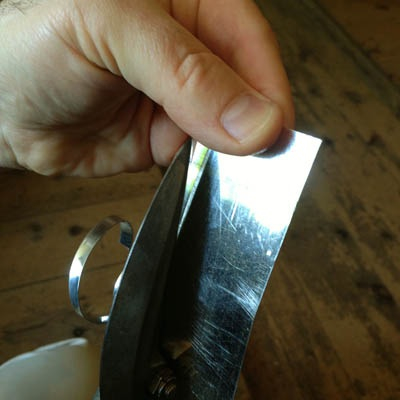 Don attaches the lower horizontal band, bending and locking the 2 ends together.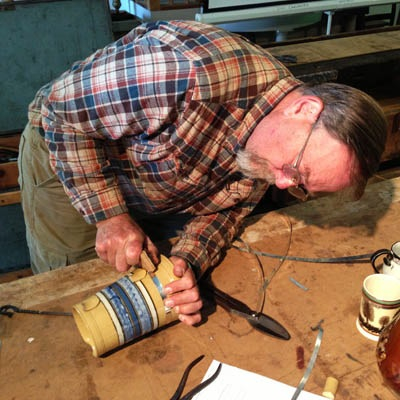 I am placing the 4 vertical bands and marking them for Don.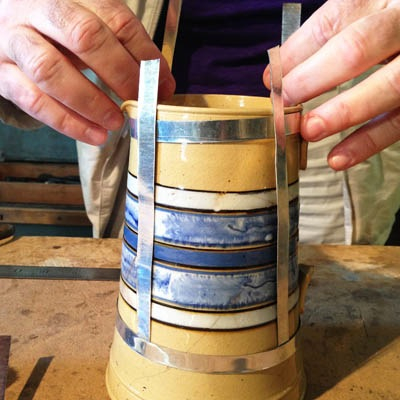 Don is soldiering the first vertical band.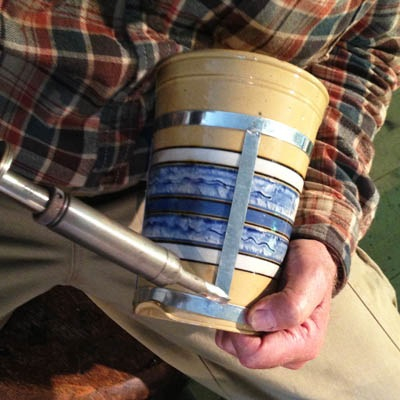 Using an original tin crimping machine from the mid 1800s, Don is embedding wire in the handle edge, which provides extra support.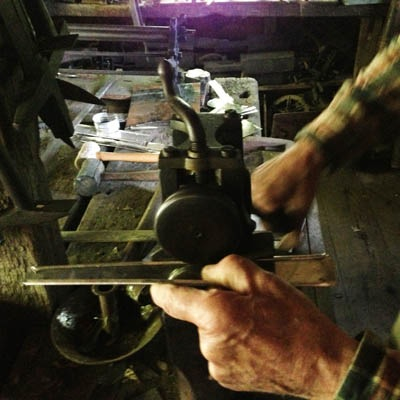 The handle is being bent and formed.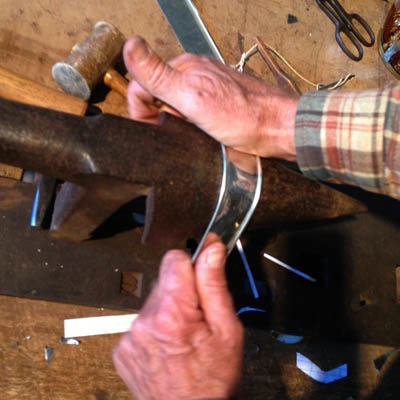 Don has a remarkable eye and in very little time, has cut out a tiny piece at the top of the broken handle stub to allow for the new handle to fit snugly in place.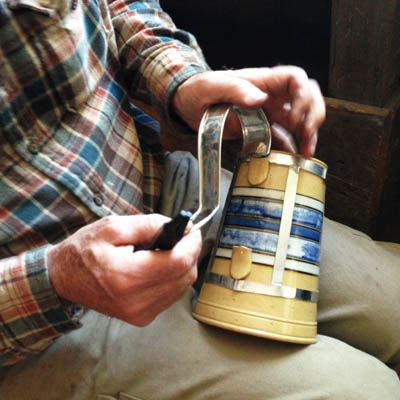 By the 1800s, tinkers added embellishments such as thumb rests. Don thought it would be a good addition, as do I.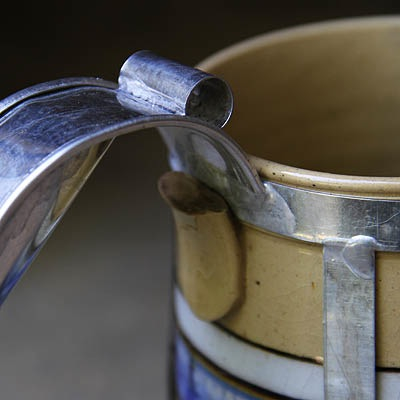 Unable to drill through the body of the jug for fear of leaking contents, tinkers attached handles to whatever was left of the broken handles. Don snipped out the center part of the lower handle, leaving enough of the tin-encased wire to bend around the remains of the lower handle stub and solder to the lower support band.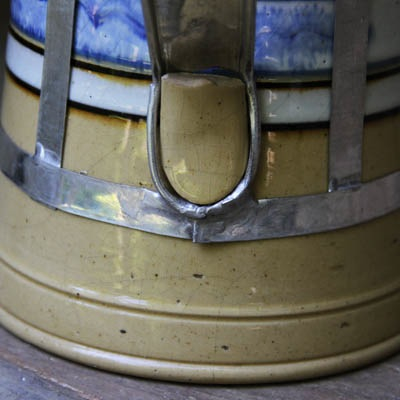 Photos courtesy of Mark Randall