This 8-1/2″ round creamware fruit basket stand with nine lobed pierced openwork panels was made in England in the late 1700s. Creamware, a lightweight form of earthenware with a transparent high gloss glaze, was developed by Wedgwood in the mid-1700s and became so popular that it was soon copied by rival potters in Staffordshire, Derby and Leeds. It was originally paired with a matching basket, pierced to allow the fruit to breathe and not spoil as quickly. Because the openwork pattern is so delicate, many surviving examples are damaged. But I have not seen many with this unusual repair, which at first glance appears to be a standard staple job. Upon closer inspection you will see the "staples" are actually tightly wrapped bundles of ultra-thin brass wire. Many of the wire reinforcements pass through the open pierced pattern, making good use of existing holes straddling the cracks. This piece ended up with stains, no doubt a result of the dark fruit juice dripping out of the basket above and seeping through the cracks of the light colored, soft-paste pottery.
Though cracked and stained, it is a welcomed addition to my collection, especially since it was recently given to me by my high school French teacher who carried it on her lap during a flight from her home in Belgium to New York. Merci beaucoup, Marianne!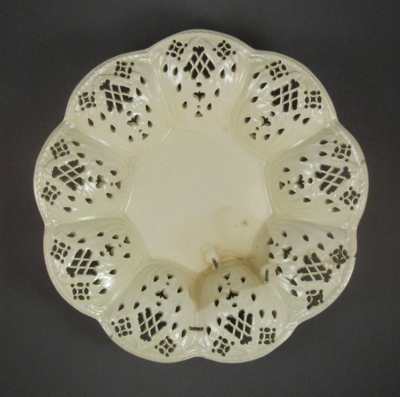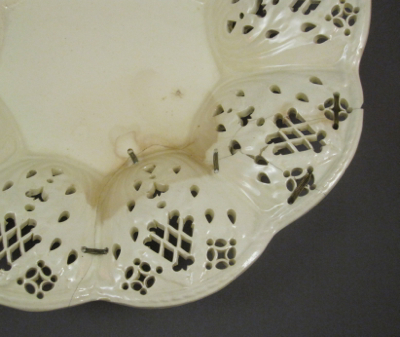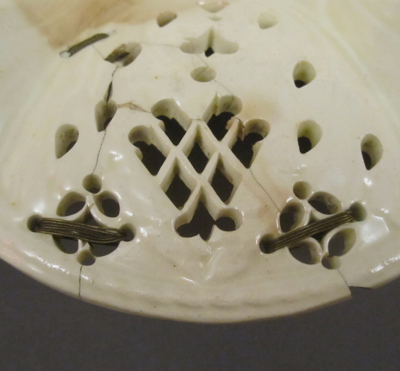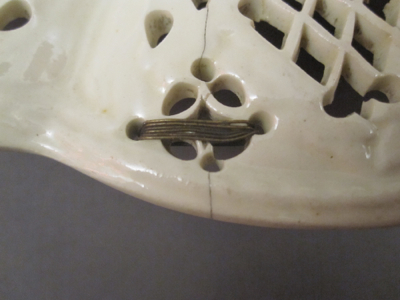 Both the fruit basket and matching stand pictured below are in tip-top shape, neither in need of wire reinforcement.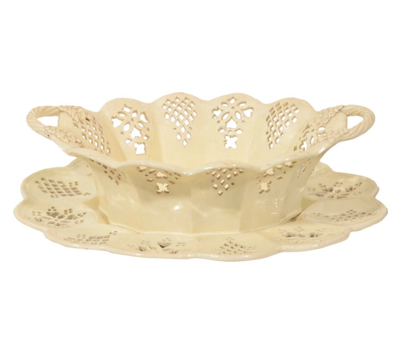 Photo courtesy of 1stdibs