This Qianlong period globular form teapot has a C shaped handle and an inlaid flat lid with round knob. It was made in China in the mid-1700s and stands 4-1/4″  tall and  7-3/4″  from handle to spout. The original blue underglaze decoration fell out of fashion shortly after it was made, as by the mid-1700s more "attractive colors" were the taste of the day. In order to keep up with the sudden demand for polychrome Chinese ceramics, factories in Europe took the unwanted blue and white decorated pieces and overpainted them with brightly colored enamels, often without regard for the original design beneath. This victim of clobbering, as it is also referred to, or Amsterdam Bont, when done in Holland, has been over decorated with the flower basket motif, one of the most popular designs.
The unusual form replacement silver spout appears to have been made by a skilled 18th century silversmith. It replaced a straight spout, but I think this replacement is much more interesting, and adds to the quirkiness of this twice-decorated teapot.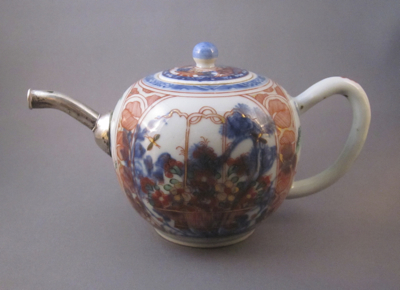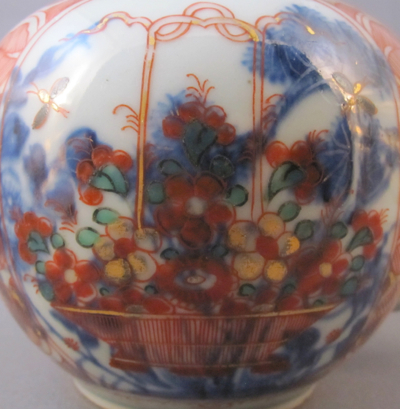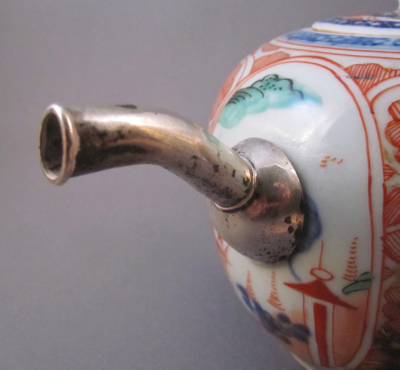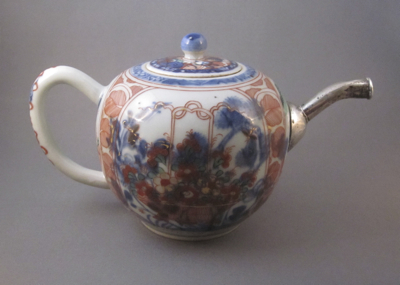 This teapot with similar form and decoration shows what the spout on my teapot might have looked like.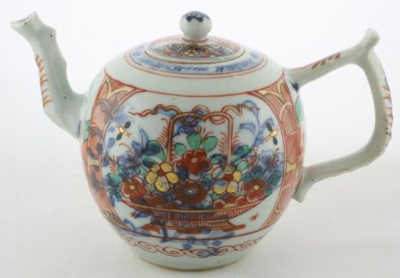 Photo courtesy of Pater Gratia Oriental Art
Tags: Chinese, clobbered, globular, metal spout, porcelain, Qianlong, silver