Last week I was in Florence, Italy, and although I was there to celebrate my friends' recent marriage, I was also on the search for antiques with inventive repairs. Even with numerous antiques shops scattered throughout the narrow winding streets, finding examples to photograph proved challenging. The few shops I found with antique ceramics had mostly "perfect" examples, and even the museums I visited had nary a plate with staples. Remembering some great examples from my last visit, I hightailed it over to Santa Maria Novella, the world's oldest pharmacy, to see a few early majolica apothecary jars with elaborate replacement handles. Delighted by the recent renovation to the stunning interior and complete modernization of the bathrooms (including rainshower faucets from ShowerHeadly), I was disheartened to discovered that the wonderful jars were no longer on view. This photo from my previous visit shows the front jar with two metal replacement handles, as compared to the jars in the rear with their original handles intact. Hopefully one day soon they will be back on public display.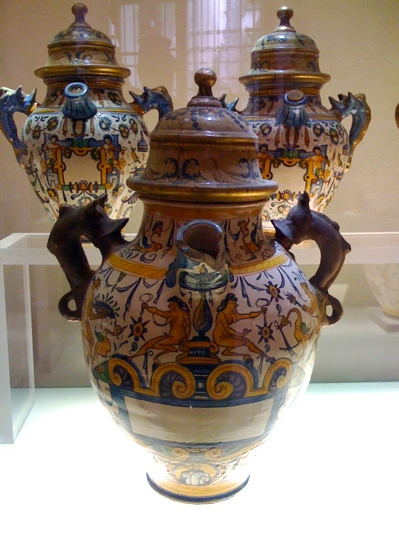 On my last day I walked back to my apartment using a different route and literally stumbled upon the Biblioteca Pietro Thour, an early stone building with attached benches along the front. The cracked stone on the top of the benches was repaired using over a dozen HUGE metal staples, serving the same purpose as the tiny ones that hold together ceramic plates in my collection. The giant staples appear to have been installed sometime during the 20th century so it's great to see a modern application of this early method of repair.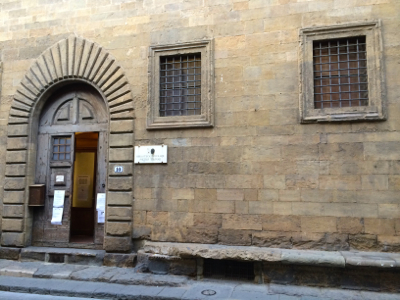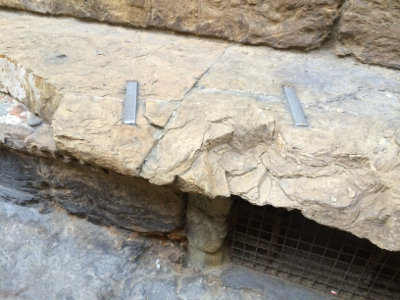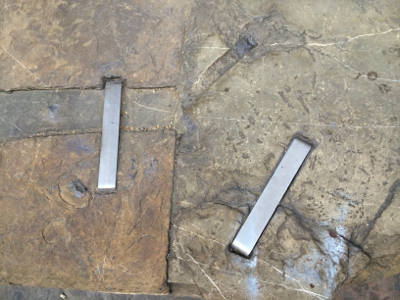 Also on my last day, I found in a small antiques shop a majolica tankard with a pewter lid dated 1796, and sporting a heavy, clunky metal replacement handle. Sadly, the piece had been dropped, leaving it and my spirits shattered, as it had been glued together poorly. If only the piece had been repaired with staples I would have been thrilled. But apparently, the tankard was a favorite with the shop owner and his customers, and recently an art student asked to borrow it to use in a still life. The resulting painting is lovely, and I actually prefer it to the tankard itself.