As I work in the film industry as a set decorator, it's nearly impossible for me not to scrutinize the decor when watching a movie or television series. Although it is fun to see what other decorators have done to help establish the characters, it has become a bit of a curse, as on occasion it distracts me from following the plot. As my eye wanders away from the actors and on to the set dressing seen in the background, I have spotted some interesting inventive repairs along the way.
Star Wars: The Rise of the Skywalker, 2019. Kintsugi helmet.
This past week I saw the latest Star Wars movie and immediately noticed a kintsugi helmet worn by Adam Driver as villain Kylo Ren. Jen Glennon writes in Inverse: "The Rise of Skywalker is finally here, bringing with it the return of Kylo Ren's nouveau-Vader helmet, shattered during a Last Jedi tantrum. In the months leading up to the release of Episode IX, keen-eyed fans compared the visible red cracks on Kylo's helmet to the Japanese practice of kintsugi, or mending broken objects with visible seams of gold or silver, transforming a break into a unique design element." So glad to know that kintsugi has made its way into one of the world's most popular movie franchises and is being seen by millions of people.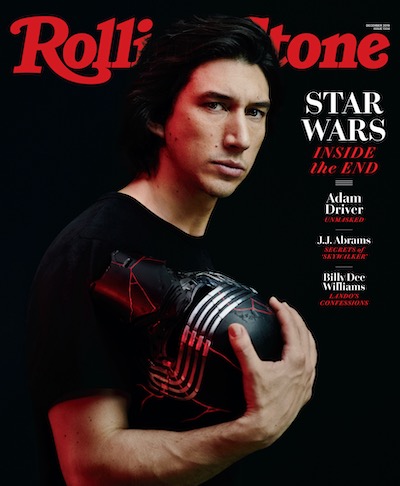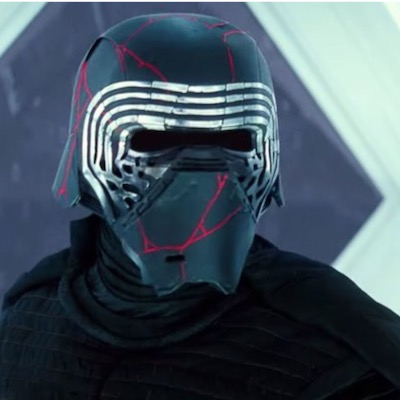 Mary Poppins Returns, 2018. Cracked Royal Doulton bowl.
After the Banks children accidentally break their mother's beloved Royal Doulton bowl, Mary Poppins (Emily Blunt) takes the childern and the broken pieces to her cousin Topsy Turvey (Meryl Streep), a "woman who can fix anything," to repair the damaged heirloom. Naturally, an elaborate song and dance involving broken antiques ensues.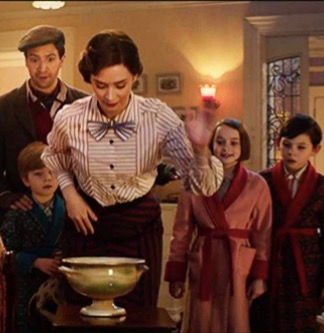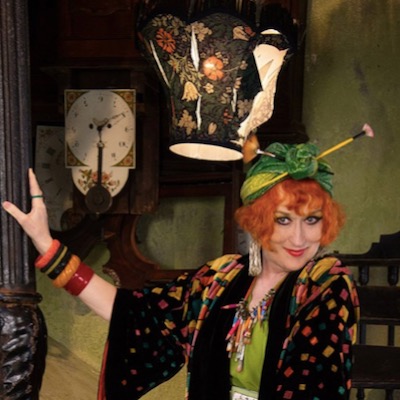 The Crown, 2016. Mug with early replacement handle
During the first season of the sumptuous series The Crown, I spied with my little eye a Chinese porcelain covered mug with early metal replacement handle in Winston Churchill's yellow-walled sitting room. The room is filled with many other pieces of antique ceramics, paintings and fine furniture. I wonder if Churchill actually owned antiques with inventive repairs or if the set decorator, Alison Harvey, added it in to help comment on the character.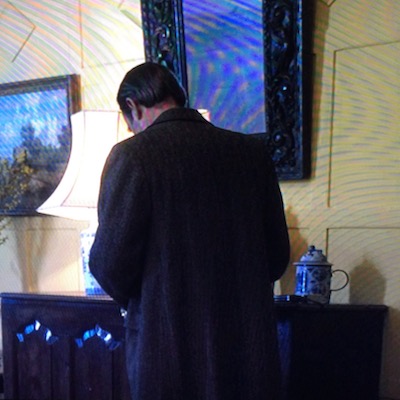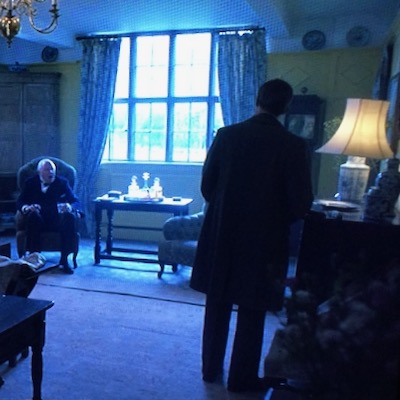 The Piano, 1993. Make-do finger.
*Spoiler alert! This fantastic make-do hand prop (literally) is integral to the plot of Jane Campion's masterful movie starring Holly Hunter as Ada McGrath. The polished silver steampunk appendage, seen at the end of the movie, allows Ada to play her beloved piano once again.