The Piano, a 1993 film directed by Jane Campion and starring Holly Hunter as Ada McGrath, a mute pianist, and Anna Paquin as her daughter Flora (both Oscar winners for their performances), contains a poignant "make-do" that must be noted in these virtual pages. In the course of the film, Ada has her right index finger severed by her jealous husband in a fit of rage, depriving her of the ability to play her piano. In the film's epilogue, Ada's new lover has created for her a riveted silver "make-do" replacement finger, complete with a finger nail, which allows her to play the piano once more. I love a happy ending, especially when an inventive repair is crucial to the outcome!
I attended Carnegie Mellon University's School of Drama, earning a degree in set design, while Holly Hunter was studying acting. Her immense talent was evident even then, though she had a difficult time masking her thick Georgian accent. How appropriate that she won her Oscar playing a mute. Years later I worked as a set decorator on a film directed by Jane Campion, but never had the chance to tell her how much I liked the final frames of The Piano and Holly's make-do finger.
The film's poster shows a tender moment between Holly Hunter and Harvey Keitel as her lover Baines. Notice that her right hand still has its index finger intact.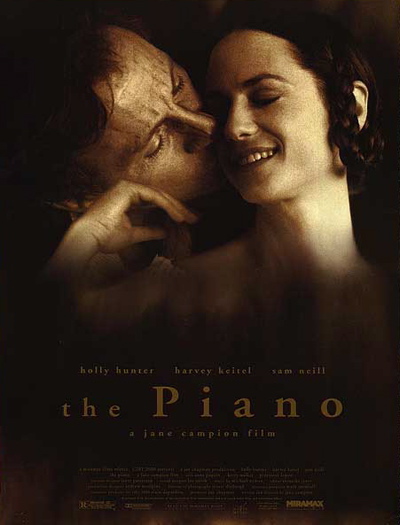 A beautifully made silver replacement finger allows the ivories to be tickled once again…Fade out.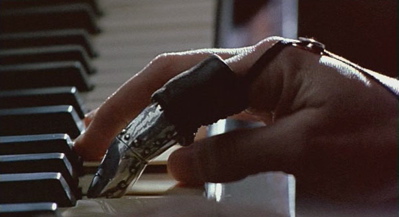 Poster and photo courtesy of Miramax