This lovely teapot, made in England during the Aesthetic Movement, has a Parian finish and was made by Copeland in 1874. It measures 6 inches high and 8.5 inches from handle to spout. The original pewter lid, which looks like a replacement, is actually original to the piece. I feel that the staple repairs on this teapot enhance the design, as they follow the same graceful line of the raised bent bamboo decoration and the staples mimic the horizontal nodes along the vertical cracks.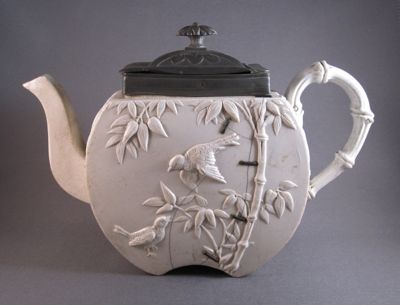 The Copeland firm, operated by William Taylor Copeland in Staffordshire, called the parian finish "statuary porcelain" because of its resemblance to the fine white marble of neoclassical sculpture.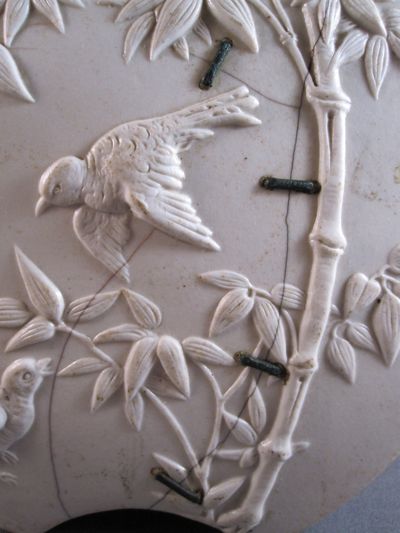 There are four staple repairs on each side of the teapot.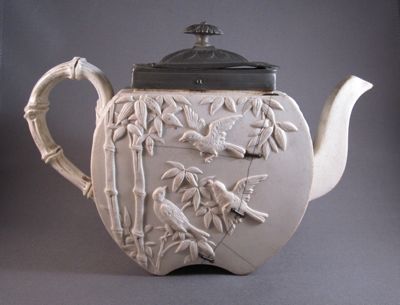 The underside of the teapot reveals an incised COPELAND mark and British registry mark in relief, dating this piece to 1874.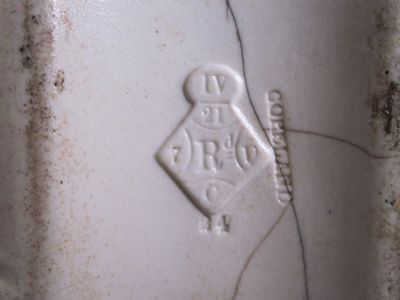 This "perfect" teapot is without staple repairs and has an ornate pewter lid. I still prefer my "imperfect" example with visible battle scars proudly displayed.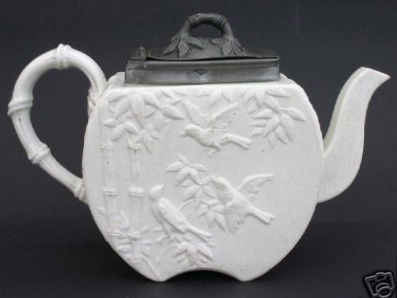 Photo courtesy of Teapots Teapots Teapots
Tags: English, pottery, staples/rivets