Yesterday I braved the freezing cold weather and made my yearly trek up north to check out the 15th annual New York Ceramics Fair. I enjoyed seeing old friends and making new ones, as well as spotting these gems with inventive repairs.
Martyn Edgell Antiques Ltd. brought a stunning collection of colorful mochaware pieces. Sadly for me, they were all in perfect condition. But this important Delft wine pot with blue Chinese decoration from 1680 has an unusual 18th century figural metal replacement spout strapped on to a metal ring around the base.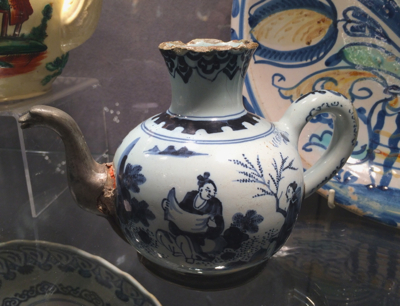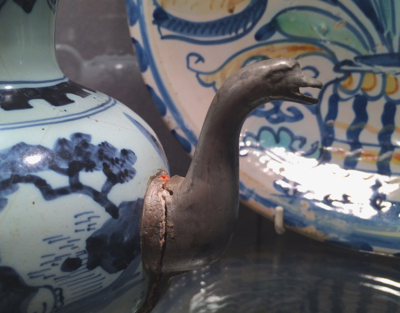 Martyn also brought this English salt glaze jug with copper lid, circa 1700. The tin base appears to have been added by a 19th century tinker to stabilize the jug and possibly cover chips along the bottom.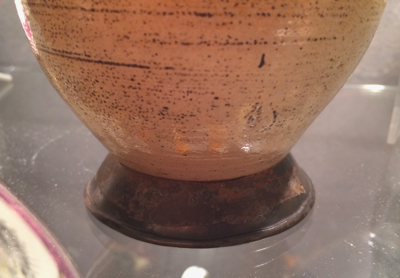 I stopped dead in my tracks when I came upon this enormous 18th century Whieldon-type pottery punch pot, courtesy of Earle Vandekar of Knightsbridge Inc., with gorgeous trailing vines decoration and tortoise shell glaze. Naturally, my favorite feature is the sleek silver replacement spout, which mirrors the shape of the broken original.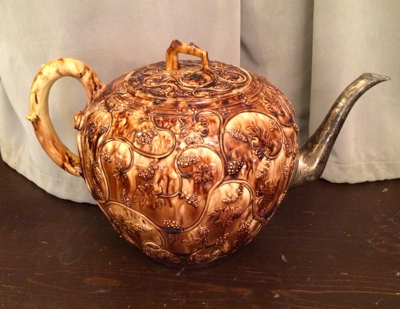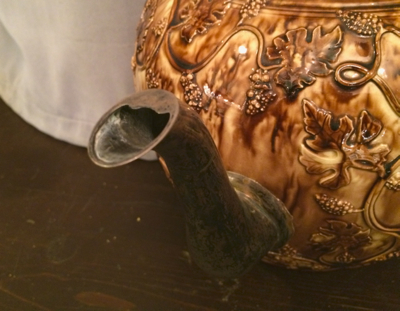 In the same booth I found this lovely 18th century Wieldon-type footed teapot, also with trailing vines decoration and tortoise shell glaze. This piece has two early repairs – a silver replacement spout and an overscaled urn-shaped knob. It looks especially appealing displayed next to the much larger punch pot above.