Each year I look forward to attending the New York Ceramics & Glass Fair at Bohemian National Hall, for me the highlight of New York's Winter Antiques Week. This year the fair has expanded to three floors of exhibition space, including more glassware and contemporary pieces than ever before. I enjoyed seeing Martyn Edgell and his booth chock full of colorful English ceramics, including shelves of dazzling mocha ware pottery. Leon-Paul van Geenen was back this year with a few examples with early repairs, as well as white Delft pottery, many pieces included in his recently published book, Delfts Wit. A handful of early white plates were give a modern spin on Japanese Kintsugi repair, done by artist Bouke de Vries.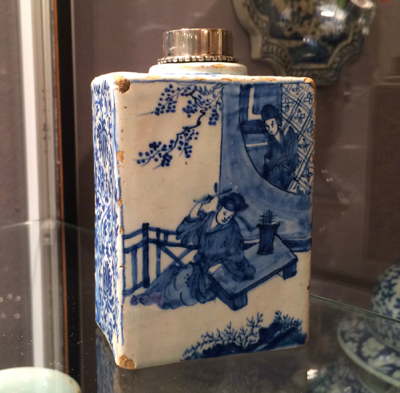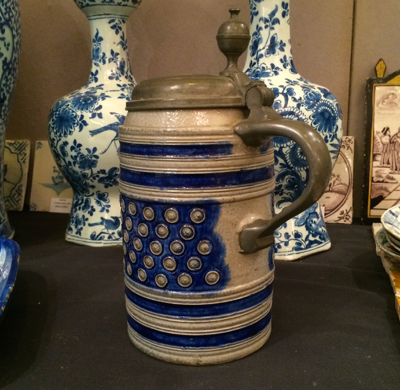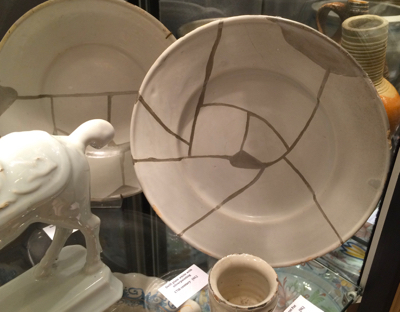 Leslie Ferrin of Ferrin Contemporary had two booths of fine ceramics by leading international contemporary artists, including Vipoo Srivilasa, Sin-ying Ho, and Stephen Bowers, as well as modern examples incorporating inventive repair, which I was especially drawn to. Paul Scott, an English artist, has done extensive research and has published articles on the fascinating subject of early staple repair, incorporating it into much of his work. Francis Palmer and Mara Superior showed large vessels with Kintsugi repair and faux staples, making their pieces even more unique.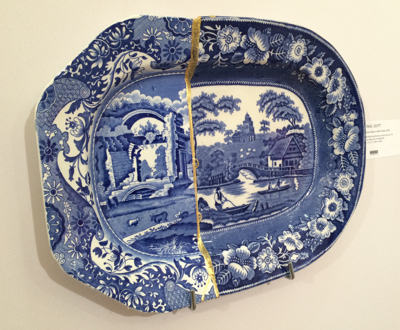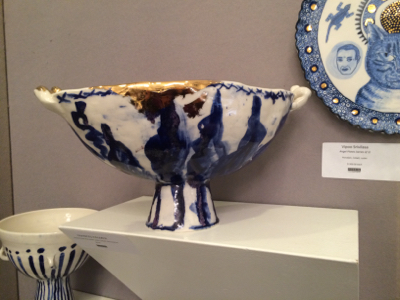 It was heartening for me to see so many examples of antique and contemporary ceramics with inventive repair in such a prestigious venue. It gives me hope that beauty in imperfection is now being embraced by more artists, dealers and collectors than ever before.