This porcelain Low Chelsea ewer shape cream jug with spiral molding was made by New Hall in London, c.1785. The floral spray decoration is hand painted in polychrome enamels. It measures 2.5 inches high and 4.75 inches from lip to handle.
A lovely jug indeed, but what I find so special is the rare replacement handle, which was added about 100 years after the jug was made. Perhaps a descendant of the original owner, who must have been quite well off and engaged the services of John Gorham of Providence, Rhode Island, to fashion a custom sterling silver replacement handle. I own and treasure just a handful of hallmarked silver repairs, but this is the first piece I have encountered with an American hallmark, which pinpoints the repair to 1880.
Here's an example with similar form showing what the original handle on mine might have looked like.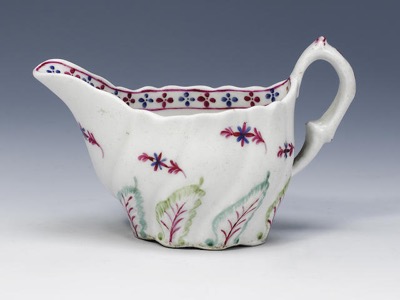 Photo courtesy of Bonhams
Tags: English, metal handle, porcelain, silver