Ever since I started my blog, people have asked me when I was going to start showing examples of Japanese kintsugi. The definition of kintsugi has been interpreted as "golden joinery", "golden repair" and "to repair with gold". I have long been an admirer of the ancient art of repairing broken ceramics and glassware using urushi (lacquer) and real gold powder but wanted to learn more about it before discussing it here.
I recently completed classes given by Gen Saratani in Manhattan and learned first hand how to repair a chipped plate. We were told to bring in a ceramic object with a chip and I knew immediately which piece to bring in: a French plate made by Sarreguemines, c.1890, with a large old chip at the bottom. The transfer decoration depicts an itinerant "china mender" repairing a broken vase using staples, while a distraught client looks on. A sign above him proclaims "I mend with staple and without staple: alabaster, wood, tortoiseshell , marble, amber, ivory, crystal, glass, earthenware, porcelain!! That's the mender and repairman." Beside him are a few plates repaired with staples. Next to the sign is a poster with the title "THE BROKEN JUG" showing a lovely lady holding a jug. My favorite detail is a stapled plate with a heavy weight hanging from it, to show how strong his staple repairs are. I do not recommend trying this at home.
Here is my completed plate with the chip now filled with gold covered lacquer. I will discuss the step by step technique I learned in upcoming posts, as well as show rare examples I have found in museums.
Thanks to Gen Saratani for his excellent teaching skills and to archeologist Alban Ceramo Horry for translating the text on the plate.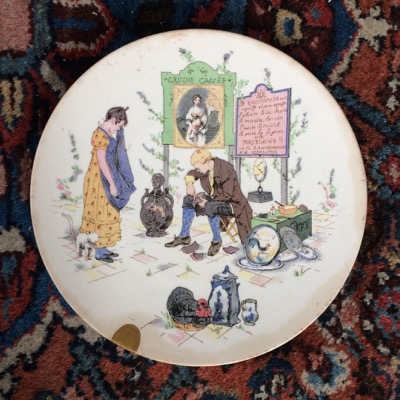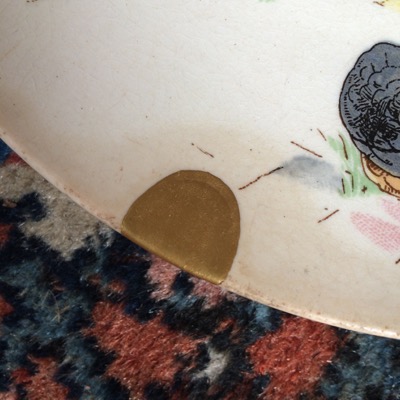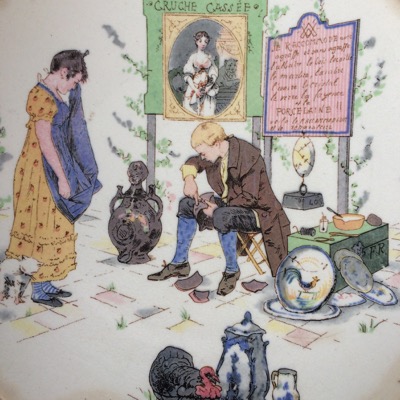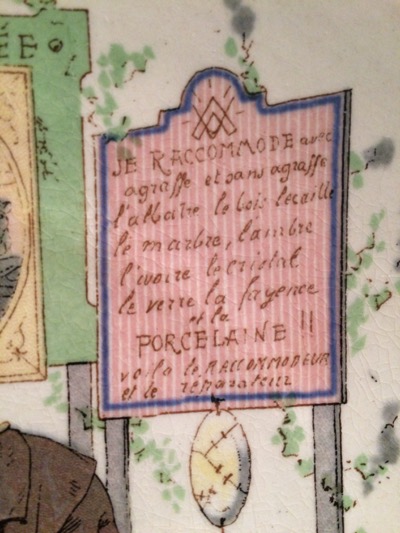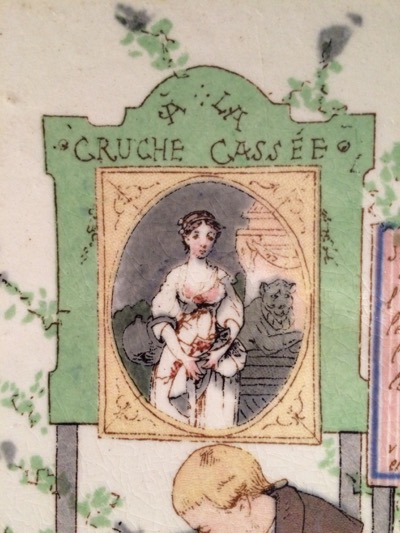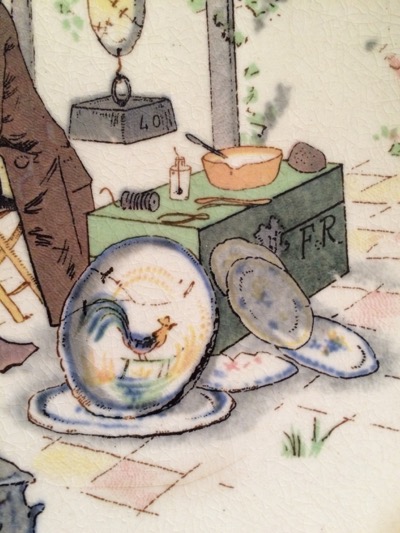 Tags: kintsugi