I am asked "What is your favorite antique with inventive repair?" often by friends and colleagues. So after years of vacillating, I am finally committing to giving an answer.
This little teapot…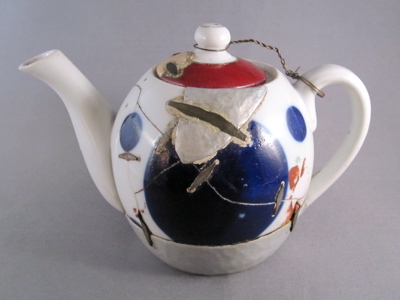 I found this small globular teapot 5 years ago, and knew very little about it at the time. The dealer I purchased it from had no information regarding its origin or history, so it remains a bit of a mystery to me.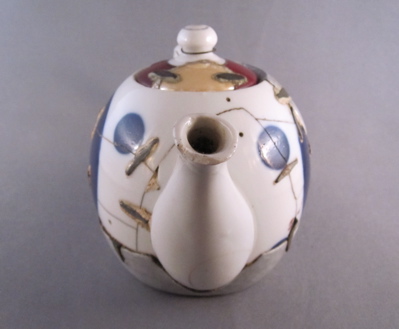 It is made of porcelain, measures 3-1/2″ high, 6-1/2″ wide and appears to be mass produced. The simple Art Deco inspired decoration of large and small navy blue dots help date the piece to the mid 1920's -30's. It reminds me of Czech pottery of the same period, so I am assuming it is from the same region.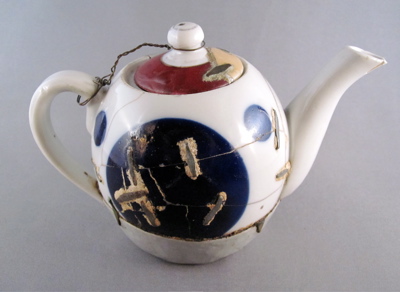 No part of this poor teapot has escaped damage, making it by far the most altered piece in my collection.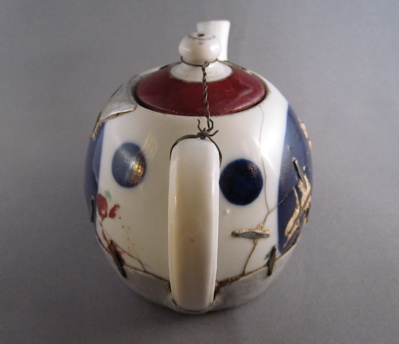 There are 18 metal support staples, a replaced hand-hammered tin base, a large tin patch on one side, a mended chip on the lid grafted from another lid entirely, and a wire tether holding the lid in place.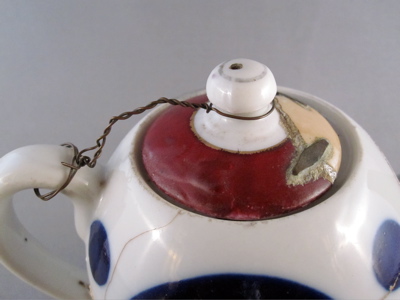 The  numerous metal staples (aka rivets) appear to be machine made and are reinforced with cement.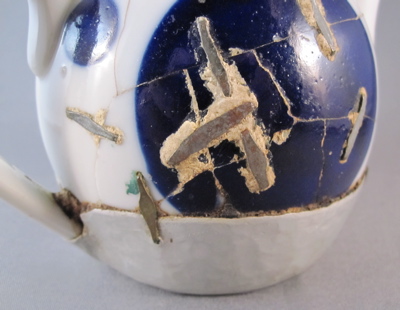 The original owner must have really cherished their teapot and made a great effort in trying to make it whole again.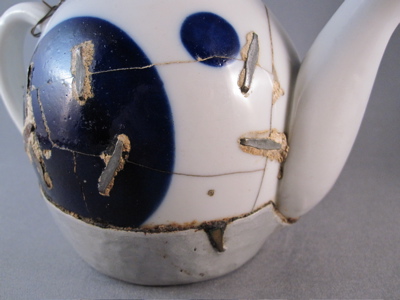 If anyone has further information regarding the origins of this piece, please let me know.
And if you ask me "What is your favorite antique with inventive repair?" a year from now, I reserve the right to respond differently!
Tags: globular, metal base, pottery, staples/rivets