This small pottery "Dutch" shape jug, decorated with black transfer prints and verses of the popular Sailors Farewell, was made in Sunderland, England, in the early to middle 1800s. Standing 6″ tall, it is embellished with polychrome overglaze washes and pink lustre accents. The front and rim have floral prints and the reverse side is decorated with a black transfer print of the poem A Birth-Day Thought, written in 1809 by Charles Lamb (1775-1834):
I envy no one's birth or fame,
Their titles, train, or dress;
Nor has my pride e'er stretched its aim
Beyond what I possess.
I ask and wish not to appear
More beauteous, rich, or gay:
Lord, make me wiser every year,
And better every day.
Over one hundred years ago when the jug was dropped, resulting in the loss of the original loop handle, it was taken to a tinker who made a metal replacement. The owner must not have liked the incongruity of the raw metal handle strapped to the delicate ceramic jug, so the handle was painted in copper tones, to help ease the offensive blight.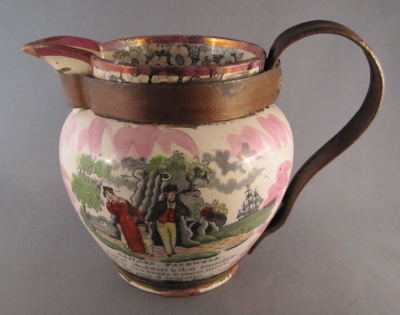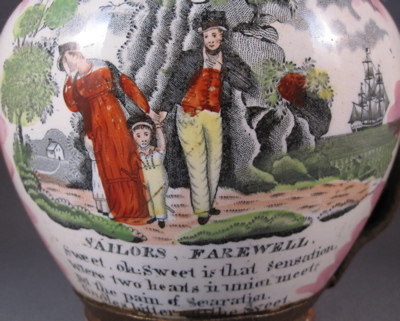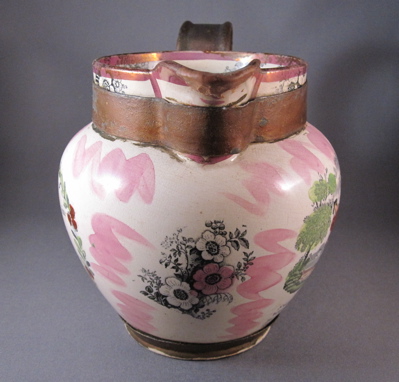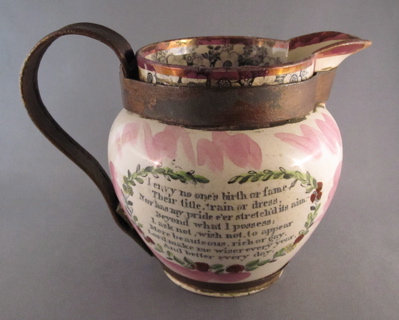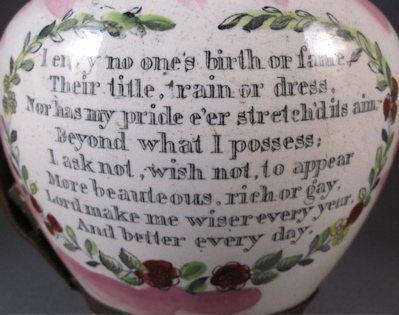 This jug with similar form and decoration shows what the handle on my jug would have looked like with its original handle intact.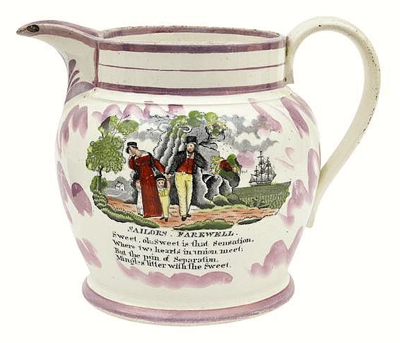 Photo courtesy of Carter's
Tags: English, lustre, metal handle, pottery, transferware