Last week I attended my first advanced Kintsugi class given by Gen Saratani, master Japanese lacquer restorer and artist. Kintsugi is the ancient Japanese art of repairing broken ceramics using lacquer and gold. In the spring I took a beginner class with him and repaired a chipped plate, which I posted earlier.
Hoping that I would find examples for inspiration at the Metropolitan Museum of Art in New York City, I did indeed stumble upon these early pieces. They are all Korean pottery: stoneware, porcelain & Buncheong ware.
Oil bottle decorated with peony leaves Goryeo Dynasty (918-1392), late 12th century. Stoneware with reverse-inlaid design under celadon glaze.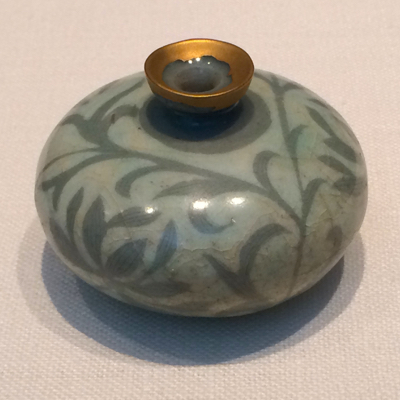 Maebyeong decorated with cranes and clouds Goryeo dynasty (918-1392), late 13th century. Stoneware with inlaid design under celadon glaze.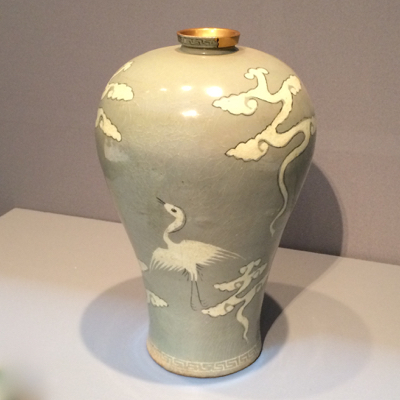 Small bowl decorated with chrysanthemum Goryeo dynasty (918-1392), 12th century. Porcelain with incised design.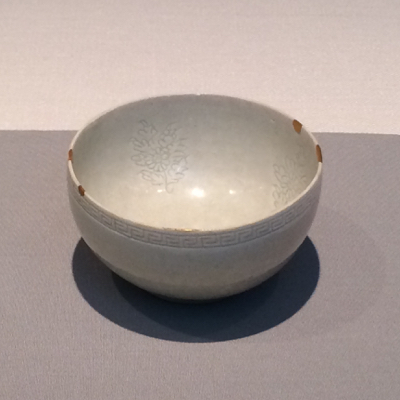 Dish with inscription and decorated with chrysanthemums and rows of dots Joseon dynasty (1392-1910), mid-15th century. Buncheong ware with stamped design.