An English pearlware "Dutch" shape jug made in Staffordshire, England in the early 1800's. It is decorated on both sides with a black transfer decoration with red & yellow overglaze washes and silver lustre bands at the top and bottom. Although it has been beat up over the past 200+ years, is riddled with numerous chips and cracks and lost its original handle along the way, I am glad to have plucked it from near oblivion.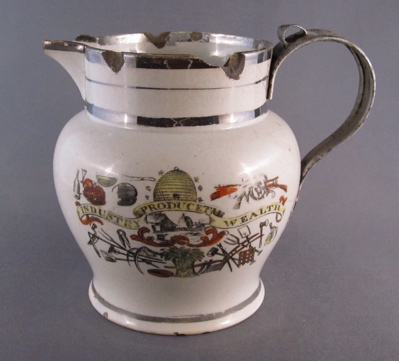 The banner proclaims "INDUSTRY PRODUCETH WEALTH" along with images including a bee hive, shafts of wheat and farm tools.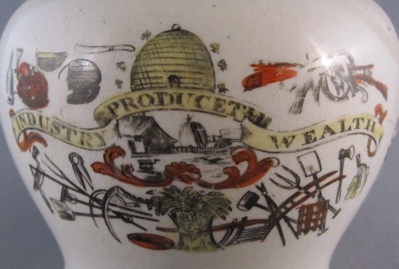 Jug measures 4-3/4″ tall.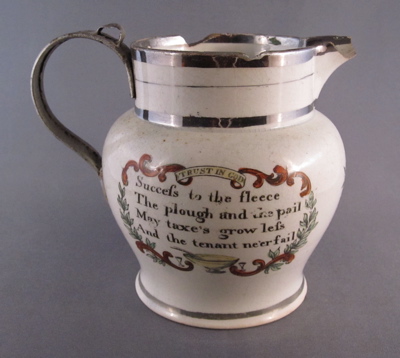 Below a banner which reads "TRUST IN GOD" is the verse:
"SUCCESS TO THE FLEECE
THE PLOUGH AND THE PAIL
MAY TAXES GROW LESS
AND THE TENANT NE'ER FAIL"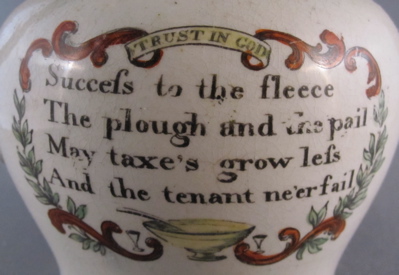 The replacement metal handle with thumb rest has been painted silver to blend in and appear more pleasing.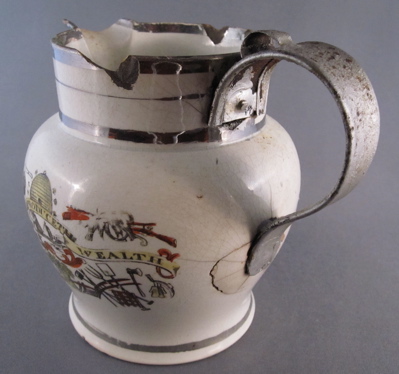 A metal bolt, securing the metal handle to the body of the jug, can be seen from the inside of the fragile jug.
This example has the same form and silver lustre decoration as my jug and shows what the original handle might have looked like.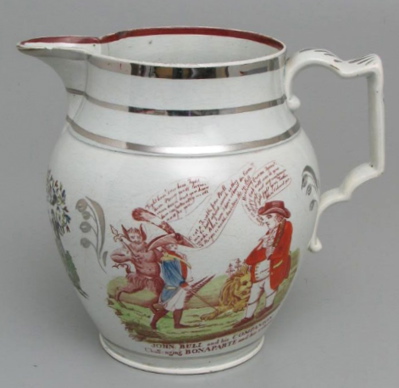 Photo courtesy of Powerhouse Museum
Tags: English, metal handle, pearlware, staples/rivets, transferware