Spending my teenage years in a small town in the Berkshires meant frequent excursions to nearby Pittsfield, MA, home of three faded movie theaters, a large library and a Mexican restaurant. Once I remember seeing a "Pittsfield Elm" plate for sale in my parent's antiques shop and feeling a sense of pride that a local tree was immortalized on a plate. This treasured pottery plate was made by James & Ralph Clews at Cobridge Works, Cobridge, Stoke-on-Trent in Staffordshire, UK. They were made between 1818 and 1834 as a part of a highly collected line of Historical Blue Staffordshire pottery.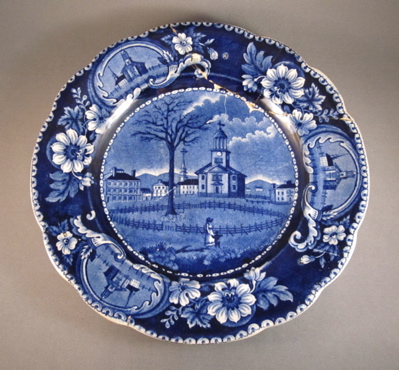 It has been held tightly together for over one hundred years with 5 flattened copper rivets, and measures 8-3/4″ in diameter.
This English pottery plate with deep cobalt blue transfer decoration is marked on the back WINTER VIEW OF PITTSFIELD MASS, CLEWS as well as impressed CLEWS WARRANTED STAFFORDSHIRE surrounding a crown.
The beloved "Old Elm" in Park Square, as seen in a 1855 engraving, was sadly cut down in 1861.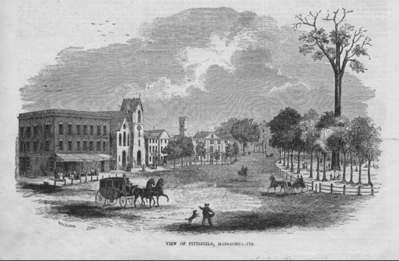 Photo courtesy of Image Museum
Tags: blue & white, English, Staffordshire, staples/rivets, transferware