This fascinating globular shape Chinese porcelain teapot from the Qianlong period (1711-1799) bears little resemblance to its original form. It was first painted in China with cobalt blue underglaze decoration of mountains, trees and buildings, but soon after it was exported and arrived in England, the local taste for simple blue and white decorated porcelain had waned. In order to keep up with the new demand for more colorful wares, many of these pieces were overpainted or "clobbered" with additional decorations and colors, to appeal to the changing taste in porcelain design.
A fine example, this teapot's decoration, overpainted in the "Grape and Vine" pattern in black and pink with gilt highlights, appears to have executed at the James Giles Studio in London. James Giles (1718-1780), a porcelain decorator and son of James senior, also a china painter, maintained a studio on Cockspur Street near Trafalgar Square. His wealthy and royal clients included Major-General Robert Clive, Princess Amelia, and painter George Stubbs.
After the appearance of the surface decoration was altered, a more drastic metamorphosis was about to take place. We will never know the exact cause of the teapot's losing its original spout and handle, but it is conceivable that a fumble resulted in the necessary trip to a metalsmith for repairs. A silver rococo replacement spout, a wood and metal handle, and metal staple repairs to the lid were just what the doctor ordered to rejuvenate the patient and send him home, altered in appearance but able to function once again, pouring tea. Teapot measures 4-3/4" high, 7-1/2" long.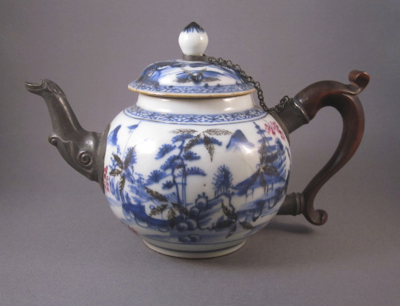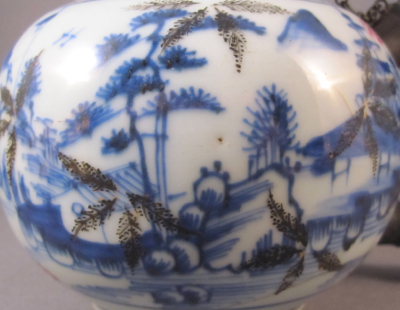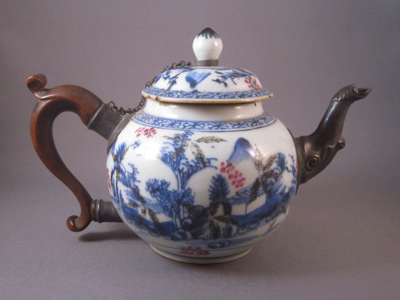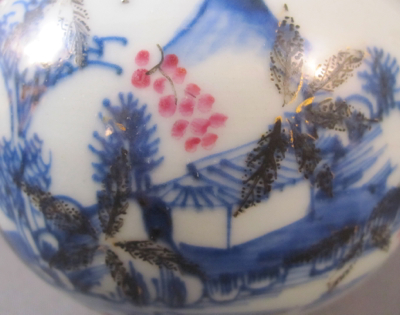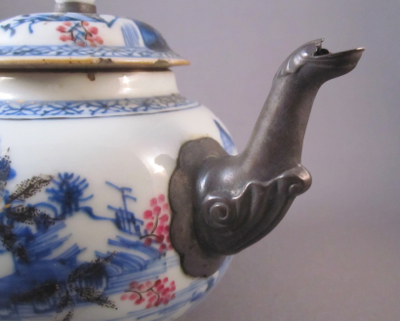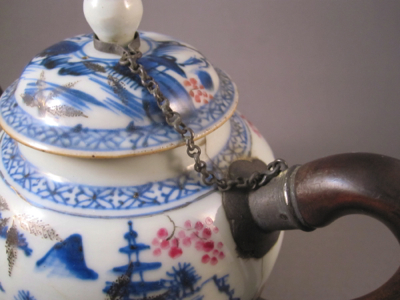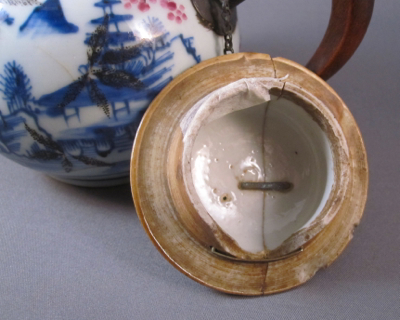 This globular teapot shows what the original handle and spout might have looked like when my teapot was new.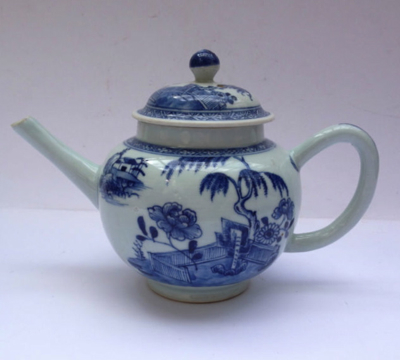 Photo courtesy of eBay