This redware pottery figural stirrup cup was made in England in the third quarter of the 18th century and is in the form of a cunning little vixen's head. L-shaped, it measures 4″ tall by 6-1/4″ wide and is freestanding, which is unusual, as most stirrup cups are base-less and unable to stand on their own. Stirrup cups, traditionally filled with port or sherry, were given to guests as a parting drink at the conclusion of a fox hunt, while their feet were still in their stirrups. This tradition began in the United Kingdom in the 18th century and continued for hundreds of years. As this sport never ended well for the fox, it was finally banned in Scotland in 2002 and in England and Wales just three years later.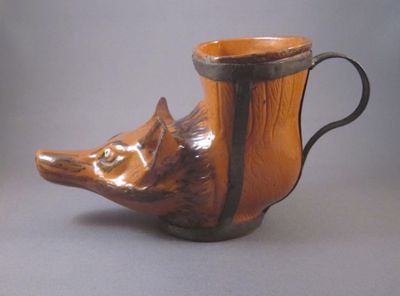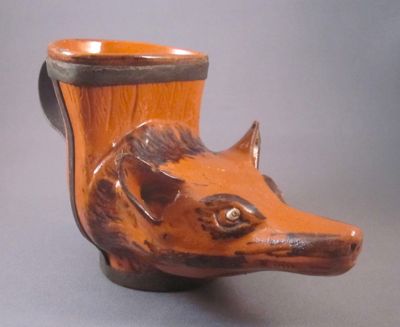 The original handle must have broken off after an inebriated hunter grabbed the cup at the conclusion of the hunt, downed his sherry, then promptly fell off his horse, dropping and breaking the prized vessel. I imagine the host was not pleased by the guest's unruly behavior and surely did not invite him back anytime soon. Luckily, a metalsmith, most likely in the 19th century, came to the rescue and fashioned a new handle with support bands, thus enabling another, more sober guest to stay in the saddle and toast his gracious host.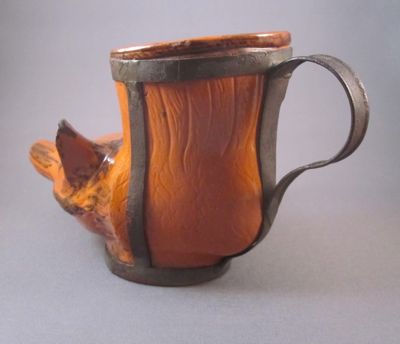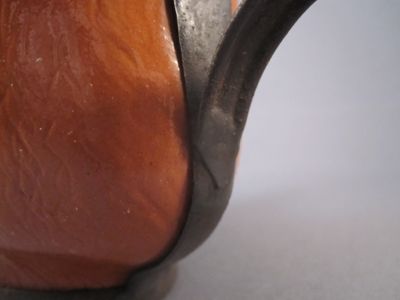 An original paper label on the bottom links this cup to esteemed collector and author Frank Falkner of Cheshire, England. The June 1905 issue of Glass and Pottery World contains an article that includes this amusing excerpt: "Mr. Falkner and Mr. Lidelstham had a hobby for old pottery, but they did not follow the usual practice of collectors by acquiring rare specimens of old Sevres, Worcester, Crown Derby, Wedgwood or others of the same high class. They directed their attention to the homely figures and ornaments with which 'the rural population of a century ago used to deck their dresser or mantel shelf. These common rustic figures, made by men who were little more than peasants themselves, had been passed over in silence for the most part even in ceramic histories.'"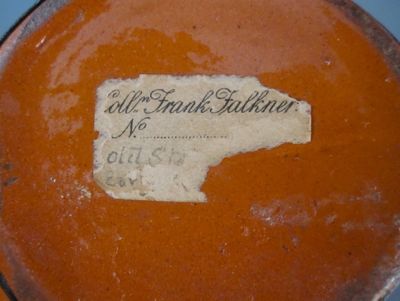 The Stirrup Cup by Heywood Hardy (1842-1933) shows hunters being offered drinks in figural stirrup cups by their host.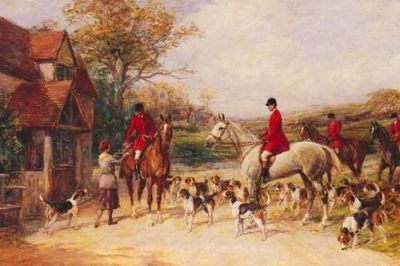 Another fine example of a rare L-shaped stirrup cup, this one is in the form of a hare, and still with its original handle.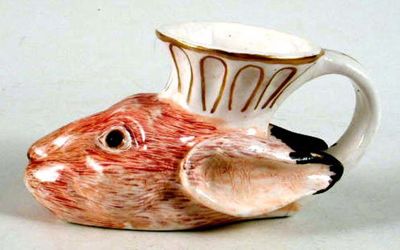 Photo courtesy of Earle D. Vandekar