Every one of these six matching broken Chinese export porcelain plates is held together with large brass staples, visible only from the back. I imagine the complete set of dishes was much larger than the six repaired examples I own, but I am thankful someone weeded out the "perfect" ones and left me with the more interesting much preferred damaged goods!
Out of all of the different types of inventive repairs I have shown thus far, people seem to be the most fascinated with staple & rivet repairs. I will be showing rare illustrations and photos documenting this repair procedure in upcoming posts, so please stay tuned.
Plate 1, The champion with 14 staple repairs.
Plate 2, another winner and tied for first place with 14 staples.
Plate 3, repaired with an impressive 9 staples.
Plate 4, not too shabby with 8 staples.
Plate 5, another plate with 8 staple repairs.
Plate 6, still lovely with an impressive 6 staples.
This detail shows the rich cobalt blue under glaze "log cabin" or timber frame decoration, inspired by an English design by Spode. This pattern is also known as "trench mortar".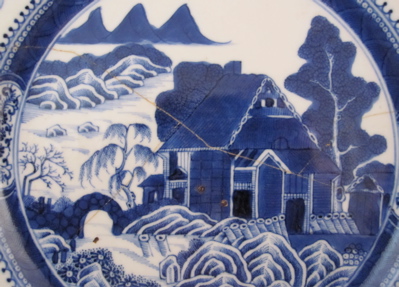 Each plate measures 9-1/2″ in diameter.