Pue's Occurrences, (Dublin Newspaper), 14th-18th February 1769
To the Nobility, Gentry, & c, Chinaware mended on a new principle.
A Crookshanks, China Riveter, from London; fronting the Blind-quay, Smock-alley, Dublin.  Has brought to the greatest perfection that much wanted ingenious art of mending all sorts of China, both useful and ornamental, in silver, brass or other metals, by a method particularly known to himself, and no other in this kingdom, which far exceeds the late practice both in strength, neatness, and duration, as has been sufficiently experienced by the nobility & gentry in Great Britain; the multiplicity of commands with which he has been honoured, which  sufficiently prove his excellence  and improvement in this art, which so effectively removes fractures, that it seems in most cases to strengthen and ornament the finest China, as it will ring as well as ever, is almost unperceivable to the eye, and will warrant it as when first new; and in many things that will admit of the work it is much more serviceable, as dishes, plates, bowls, etc,.  He in the neatest manner puts handles to mugs, silver or tin spouts to tea pots, coffee cups and all other things.
N.B. As the public has been greatly imposed upon by imposters and pretenders to the said art; any doubtful may have a pattern of his performance, as he desires, on other satisfaction that what the workmanship merits. As the want of this art has rendered great qualities of valuable China useless, when broken belonging to set and otherwise. He hopes for the favour and encouragement of the public; by directing as above he will wait on ladies and gentlemen and execute the commands with care and dispatch.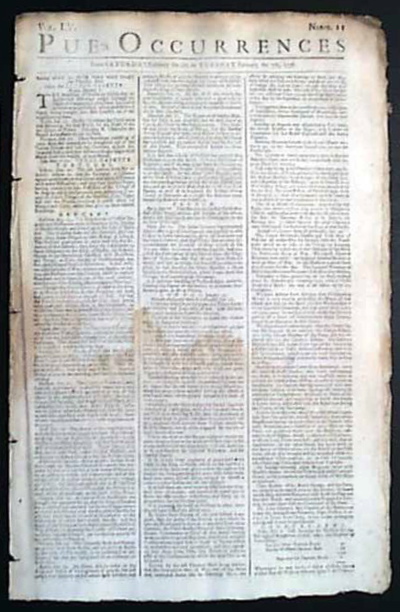 This transcript was provided by Irish collector Peter Francis
Photo courtesy of Timothy Hughes