I had been looking for an 18th century creamware teapot for many years so I was excited to have recently come across this appealing example with a most unusual, if not unique, repair.
This globular teapot, which measures 5-3/8″ high and 8″ wide, has an entwined strap handle with floral and leaf terminals and a cover with a pierced ball finial. The hand painted floral polychrome decoration is in tones of purple, green and persimmon. It was made in England during the last quarter of the 18th century at Leeds, a factory famous for developing creamware, a new type of earthenware using white Cornish clay and a translucent glaze.
Sadly for the owner, the original spout succumbed after an unfortunate accident (luckily, no charges were brought up and no bail bonds company existed back in the day if there were), while remarkably the more delicate handle remained intact. Happily for me, though, sometime in the early 1800s, the teapot was brought to an expert metalsmith who fashioned a unique replacement spout in what appears to be Britannia metal, a pewter-type alloy composed of tin, antimony and copper. The metal spout, expertly executed with precision and artistry, appears have a  modern steampunk attitude. To me it looks like a crooked finger urging "come here!"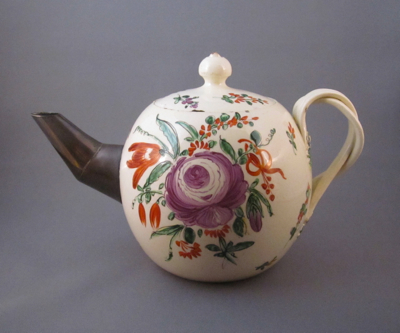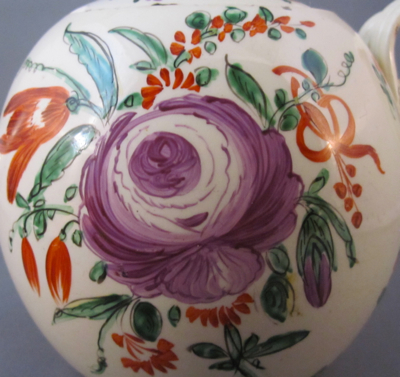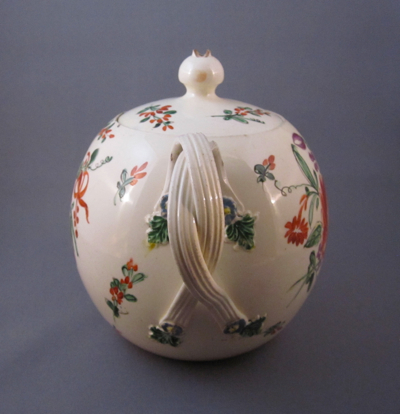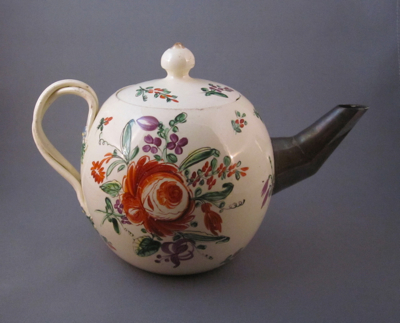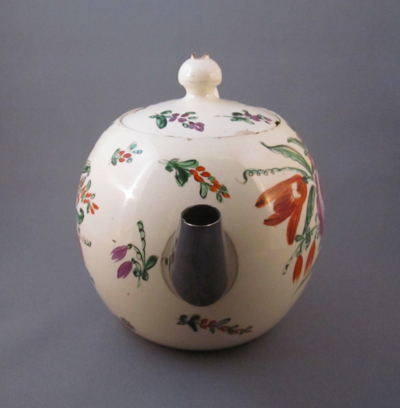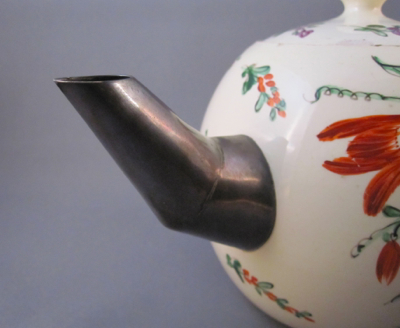 The underside reveals an early gummed paper label marked "Leeds" and a price of £4, which I would happily have paid. Of course it cost me a bit more, but I have no regrets.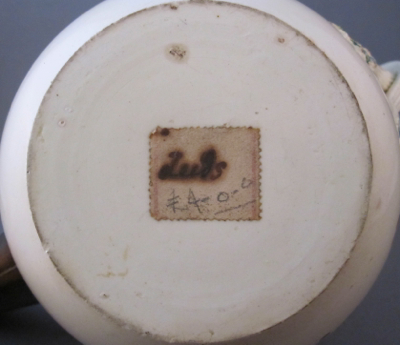 This example, with similar form and decoration, shows what my teapot's spout would have looked like had it not broken off. But I much prefer my unique example with the juxtaposed metal spout.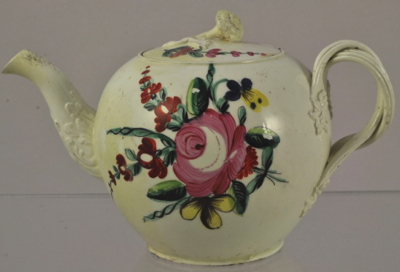 Photo courtesy of eBay